CANADIAN KENNEL CLUB REGISTERED TOY POODLE, TEACUP AND TINY TOY POODLE PUPPIES
My Poodles live in my home with me.
My Poodles live in my home with me.
They have their baby chairs to sleep in the living room and have the run of the house
I am a CKC Member for 30 years in good standing and have been breeding for 37 years
My babies are placed on CKC Ltd. Reg. with spay/neuter contracts in place, and then transferred into your name.
I provide a three year genetic health guarantee and
They come with puppy shots.deworming,Health certificates And Vet Reports
I welcome your interest and suggest that if you are truly serious about having one of my puppies you put your name on my waiting list. If you contact me to do so please provide full disclosure on the type of home you can offer one of my special babies.
Beverly -(204) 763-8974
Quality Puppies Come With - Health Certificate, Canadian Kennel Club Registration,
" I Give 2 Sets Or 3 Sets Of Puppy Shots Before They Can Go At 12 Weeks or 14 weeks Old , Dewormed, 3 Year Written Warrantee,
And Guaranteed Safe Shipping (Registered Shipper)
I Have Been Breeding Quality (CKC) Canadian Kennel Club Teacup poodles /Tiny Toy Poodles For 37 Years
MEMBER OF THE CANADIAN KENNEL CLUB
"ONLY A REGISTERED POODLE IS A PUREBRED POODLE "
I ACCEPT MONEY ORDERS , CERTIFIED CHEQUE, CASH, E- MAIL TRANSFERS AND WIRERS THREW BANK AND DIRECT DEPOSITS
************************
CKC REGISTERED TOY POODLE,TINY TOY POODLE ,TEACUP POODLE
*********************************
*********************************
ANOTHER HAPPY CUSTOMER
BELOW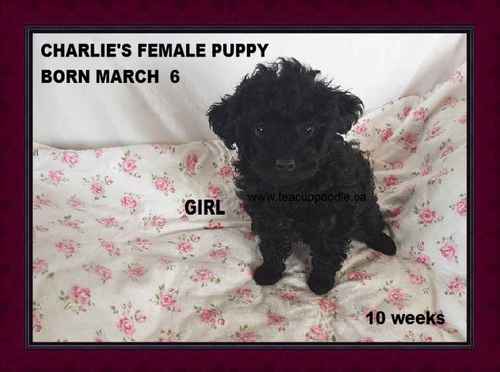 She went to the vet on May 8 /2019
and got her first puppy shot, dewormed and Health certificate
the vet said she is a very healthy puppy
FEMALE - ADOPTED BY HEATHER.Z
I HAVE GONE TO MY NEW HOME
******************************************
******************************************
ANOTHER HAPPY CUSTOMER
I AM ADOPTED ( SOLD) - TO TRUDIE AND DON .R
ONE RED FEMALE TEACUP POODLE PUPPY
SHE IS 19 WEEKS AND JUST UNDER 4 POUNDS AND 7 IN HIGH ON SHOULDER
SHE HAS ALL HER PUPPY SHOTS, DEWORMED
AND 3 HEALTH CERTIFICATES AND HER RABIES SHOT
THE VETS SAY SHE IS VERY HEATHY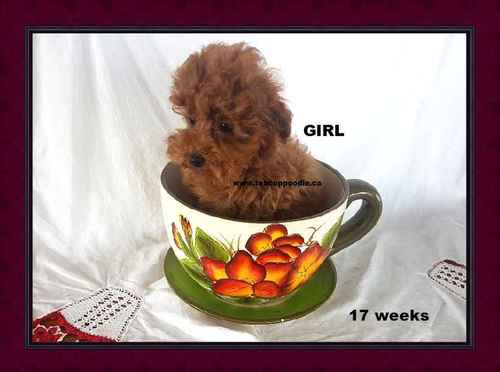 SOLD TO TRUDIE AND DON
Hi Beverly:( March 26)
Our vet visit went well. The vet said she is perfect and completely healthy as far as she can see. She didn't mention a stool sample.
She was just a sweetheart, and the assistant asked me if she could "steal" her and show the girls in the back of the clinic.
She said they loved her and that she was already in her heart! She was as good as gold, and just snuggled into the assistant as she carried her. The vet commented that you obviously were a great breeder and really took great care of her.
I told them that she is so sweet because of her bloodlines, but also that you socialize them and love them in your own home.
I told them how well you prepared her for the flight and how you put beautiful blankets in with her.
(They commented on one of your blankets that I had wrapped her in.)
By the way, we have renamed her "Toffee" and she is already responding to her new name.
She knows that I sit in one of our two recliners, and jumps up on it so I will hold her there! She's a clever one!
I have an appointment with our wonderful groomer for next Tuesday.
We figure by then she will be acclimatized and we will get her trimmed a little.
My groomer grooms in her own home and just loves doggies.
She loved our little Trinket, and is so happy that we have a new puppy to love.

I'll keep you posted on how she is doing.

Thanks again for such a darling little puppy.

Trudie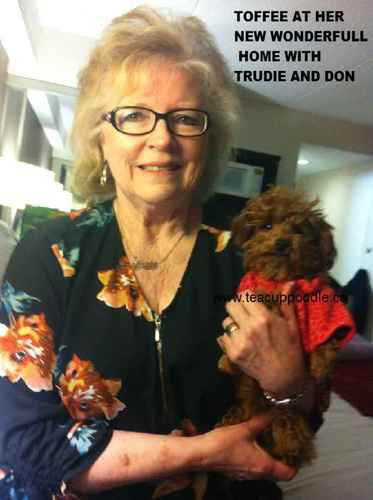 She is so sweet and I've had many kisses!
******************************
******************************