Some of My puppies are not ready to go to new home untill Minimum 11 weeks old as they are to small

'ONLY A REGISERED POODLE IS A PUREBRED POODLE '
OUR PUPPIES ARE CANADIAN KENNEL CLUB REGISTERED,DEWORMED, VET REPORT , HEALTH CERTIFICATE AND 3 YEAR WARRANTY
PREVIOUS HAPPY PUPPY CUSTOMERS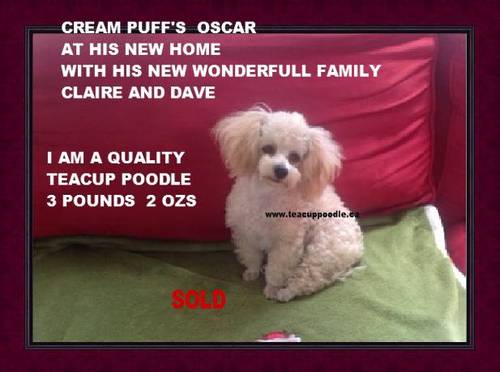 CREAM PUFF X PRINCE OF GOLD 'S PUPPY
-------------------------------------------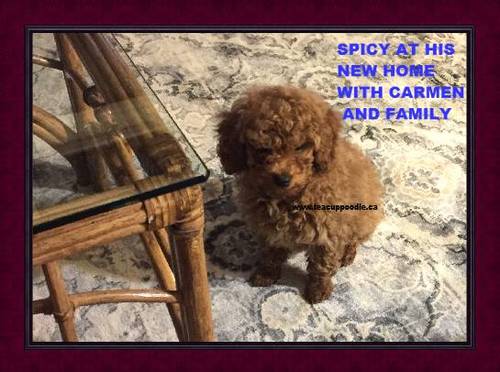 (LUCY x PRINCE OF GOLD 'S MALE PUP ONE)
Hi Beverly (april 16/2017)
Just wanted to let you know that Spicy got his second vaccination last week and the vet said once again that he is a very healthy boy. He's about 4 1/2 pounds now!
He has adjusted so easily to our home and family and is truly one of us. We all love him so much and I know he loves us too ❤
He also loves his toys and chew sticks
He's not quite 14 weeks yet, but he already knows his name well and has learned to come when called and sit on command. He's working on lying down and shaking paws but isn't quite there yet. He loves treats, running in the yard (he honestly looks like a bunny ) playing fetch, and most of all, cuddling up on the lap of one of his people.
Potty training is going fairly well and he definitely prefers to go outside, though he's still very little so sometimes has accidents of course.
I have had and loved a number of dogs in my life but have honestly never known one with such an incredibly sweet, gentle, and loving nature. We feel so incredibly blessed to have him in our lives.
Attaching a couple of pictures for you. Thanks again for sharing your gift for breeding amazing puppies with us ❤

Carmen
XXXXXXXXXXXXXXXXXXXXXXXXXXXXXX
TEACUP SIZE , TINY TOY - TOY POODLE
PUPPIES FOR SALE BELOW
"CKC REGISTERED TOY POODLE PUPPIES / TEACUP POODLE PUPPIES FOR SALE"
PUPPIES THAT DO NOT HAVE DEPOSITS ON THEM NOW
AND ARE AVAILABLE WILL BE POSTED HERE SOON