UPDATED DECEMBER 20 / 2020
ANOTHER REAL HAPPY CUSTOMER
https://www.youtube.com/watch?v=vlbrFEbACew
-------------------------------------
BELOW
---------------------------------------------------------------------------------
Hello Bev.
Isaac is doing well. Wow he's 6 years old already.
He has had a very busy career.
Isaac was never shown in conformation however he does get entered into the shows as exhibition so that the junior handling kids can practice in the ring with him , we've been to many dogs shows all over MB with him.
He does have a rally novice title as well canine good neighbor from CKC.
Also he has his agility starters title.
He is quite a clown and and enjoyed by many.
He has also traveled out to Calgary and modelled for 2 different groomers at Mastergroom Canada,
once placing third with his groomer.
barb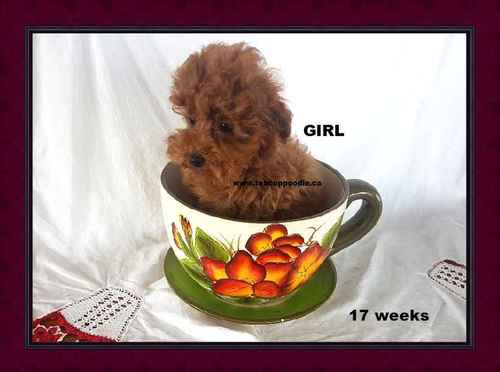 FEMALE RED TEACUP POODLE BORN NOV 6
SOLD TO TRUDIE AND DON
Hi Beverly:( March 26/ 2019)
Our vet visit went well. The vet said she is perfect and completely healthy as far as she can see. She didn't mention a stool sample.
She was just a sweetheart, and the assistant asked me if she could "steal" her and show the girls in the back of the clinic.
She said they loved her and that she was already in her heart! She was as good as gold, and just snuggled into the assistant as she carried her. The vet commented that you obviously were a great breeder and really took great care of her.
I told them that she is so sweet because of her bloodlines, but also that you socialize them and love them in your own home.
I told them how well you prepared her for the flight and how you put beautiful blankets in with her.
(They commented on one of your blankets that I had wrapped her in.)
By the way, we have renamed her "Toffee" and she is already responding to her new name.
She knows that I sit in one of our two recliners, and jumps up on it so I will hold her there! She's a clever one!
I have an appointment with our wonderful groomer for next Tuesday.
We figure by then she will be acclimatized and we will get her trimmed a little.
My groomer grooms in her own home and just loves doggies.
She loved our little Trinket, and is so happy that we have a new puppy to love.

I'll keep you posted on how she is doing.

Thanks again for such a darling little puppy.

Trudie
She is so sweet and I've had many kisses!
****************************
Hi Bev- Here is our boy at one year today. He has been the easiest puppy I've ever seen. He house broke immediately, he has never chewed or destroyed anything, he listens so much and is smart as a whip. Scooter loves everybody and everybody loves him right back. He's so gentle and such a lover boy. He's just soooooooooooooo perfect. Your dogs are really something special and thank you from the bottom of my heart for pushing us to the front of the line when we lost Curly. It really helped us deal with our great loss. Keep up the magic you do with these beautiful creatures and God bless you and your family.
---------------------------------------------
HI BEV
"Penny". At 5 months. Absolutlely one of the best dogs we have had . Never thought we could replace the poodle we lost, but you have.
Everyone that sees her loves her. She is fantastic with children and adults alike. Thinking of making her a therapy dog.
Easy to train and so loving. Off to Texas in 3 weeks for the winter.
Thankyou so much. Highly recommend anyone contemplating a poodle to contact you.
Doctor Jim and Roseanne
-----------------------------------
-----------------------------------
-----------------------------------
ANOTHER HAPPY CUSTOMER
Hi Beverly (June 27)
Charlie is doing great. Since the first night we brought him home he adjusted very quickly and slept through the night.
Charlie has such a good temperament and is very smart. He is almost house trained and he knows his name already.
The vet says he is very healthy. He is very good with adults, children and other dogs. He also gets a lot of attention wherever we go.
People like to give compliments on his coat color and they say that he looks just like a teddy bear.
He loves running around in the yard, going for walks and cuddling up with us.
We are so happy that we got Charlie from you, you are a fantastic breeder.
Charlie is a wonderful addition to our family and has brought so much joy to our lives.
He is a perfect companion and we love him very much.
Thank you for everything and I am very grateful for all your help. Attached are some pictures for you.
Christine
-------------------------------------
This is Scooter and he is 19 weeks old. He is my second puppy I have purchased from Beverley. We lost our first one after 14 ½ years of awesomeness. I've been around dogs of all shapes and sizes throughout my life but our little Curly was truly special. He was the smartest dog I've ever seen and had 1000lbs of personality packed into his 5lb body. Once we lost him we were devastated. I contacted Beverley again and thankfully she was still producing these little angels. We came all the way from Chicago to pick up our new family member.
Enter Scooter! We have had Scooter for two weeks now and he is an amazing puppy. He is calm, loving and smart. He is very low maintenance and came paper trained. He is also ¾ of the way to being house broken already. These little guys are people dogs and make great companions. Beverly fills them with so much love and attention that the bond is almost instant. Scooter has produced 1000 smiles and counting already. He just can't get enough affection and wants to stay close to either my wife or I all the time. He also has sensitive ears and makes a great watch dog.
I never realized that Poodles are ranked as the second smartest dog breed behind only a Border Collie. After my experiences with my Curly I have no doubt that it's true. He was a special little soul. I see the same traits with our new Scooter and he is filling the void wonderfully. We are so happy to have another chance to share our lives with a wonderful little soul like Scooter. Thank you Beverley, for providing us with so much joy over the years.
Robert Peacock
West Chicago Illinois
------------------------------------------------------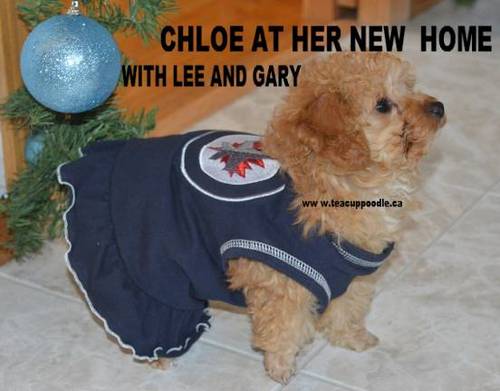 Chloe is doing just great. A very happy and content puppy from day one. She enjoys people and the outside. She loves to run about in the paths in the snow that we made for her. Attached is a photo you can use of Chloe at 4 months.
Doing great. Happy. Energetic. Sleeping on her bed. And above all a Winnipeg Jet fan.
----------------------------------------------------
Morning Beverly. Just an update for you. Rigby is fitting in just fine. No crying, sleeps through the night, gets along with the other two dogs.
Had a couple of accidents in the house, but that's to be expected. He loves the snow! Not afraid of the cats, yet one has already made it clear to stay away! Haha.
Morning Beverly. (Jan 31 /2018 )
Just thought I would send you a quick pick and let you know that Rigby is doing fantastic.
Have his 16 week vaccinations today. He's already bigger then our other toy, but I love it. He's so cuddly.
Just a little teddy bear! Hope his litter mates are doing just as well. Have a good day.
--------------------------------------------------
--------------------------------------------------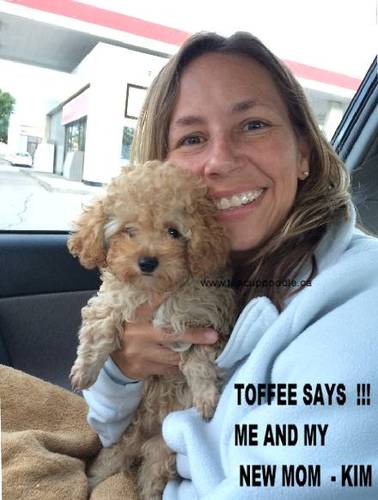 Hi Beverly, ( JULY 15/2016)
Toffee arrived safe and sound! She's doing great - so calm and friendly and loving!
Oh my goodness, Toffee is so friendly and sweet! I'm going to buy an exercise pen today. We had a great night. She woke up at 1:15am, I took her outside and she went pee, then she slept until 7:00!!! Amazing!

It must be very hard for you to see your puppies go every time as well!
Just know how much we love and appreciate Toffee! She arrived so calm and happy, you have raised her so well, and Air Canada did a great job with transporting her.
Thanks again! We love her so much!

Things are so great!!! She is the most amazing dog! She's so funny, she loves her toys already and comes bouncing to us. Such a sweetheart!


Thank you!
Kim
-------------------------------------------------------------------------------
****************************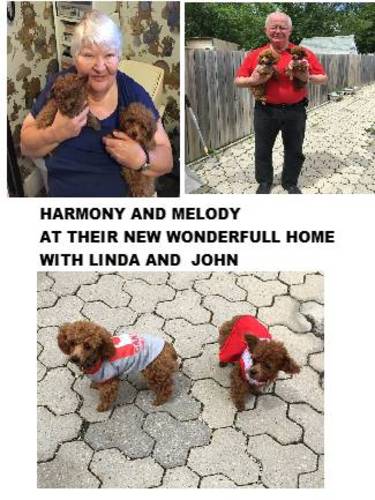 HI Beverly (June 20 )
Melody and Harmony are doing great. They are such good buddies to us and to each other. The 4 of us. (Melody, Harmony, John & I) went to the Winnipeg Goldeyes Baseball game with our son, daughter-in-law and their pooch last Saturday evening (17th). I don't know if you were aware that the "Goldeyes" have an annual bring-your-dog-to-the-Game event. This year they were trying to beat The Guiness World Record of most dogs at a baseball game. They did not break the current record ..... but the number of dogs at Shaw Park "watching" the game with their owners was 852. The event was outstanding. All different breeds and sizes ranged from very tiny to monster-sized. I had bought a "sling" carrier for Melody last month - and that proved to be real handy. You wear it across your shoulders like a newspaper bag. Put a nice soft blanket inside the pouch part. (Pink, of course!) There are clips that secure to the collar/harness with additional strap that goes over their body. Melody was loving the outing - large dogs were face-to-face with her and she could see everything so well. No worries about her perhaps getting stepped on and she was very safe and cozy the whole night. John carried Harmony where required and he was his usual happy, happy self. We were amazed that there was no trouble whatsoever with all those dogs clustered about. Absolutely no dog fights or snarly behaviour! And....our Goldeyes won.
They are quite settled in and are delightful puppies.
We have more than usual visitors these days. Melody and Harmony are so sweet and overjoyed to get petted. So, they are really socialized.
linda and john
LINDA AND JOHN'S HARMONY AND MELODY
FROM WINNIPEG,MANITOBA
-----------------------------------------------------
Hi Bev:
I got a toy poodle from you, she was born October 9, 2000. She passed away June 9th 2016. She was a fantastic friend & companion & certainly a great light in my life. When my husband died 8 years ago she was right there giving me all her love & attention. I couldn't had made it without her. She always seem to know my moods & was there to support me. I always thought dogs were great for this & would be great for people who have depression. But she seems to go above the call & really take care of me. I really miss her & can't thank you enough for creating such a wonderful dog.
Warmest regards Joanie Toronto, Ontario
p.s. I am thinking of getting a new friend soon.
------------------------------------------------------
-----------------------------------------------------
Hi Bev (JUNE 12)
She is totally in love with Kelvin. and Me, (lol). Introductions with the girls went well. Emma really has taken to her. Mitzi is doing better than I thought she would. LadyBug is eating and drinking and has three pees and a poop. She seems to be more interesting in her sisters food than hers.
LadyBug didn't make a peep on the way home. She slept for most of the way.
I realize I should have given you more money. I'm going to write you another cheque and send it to you. She's worth much more than what we gave you.
Debbie
**********************************************
**********************************************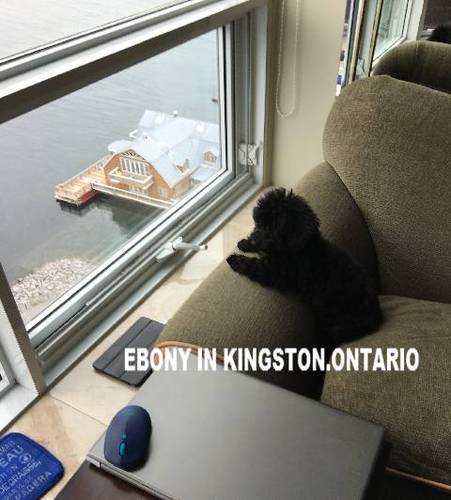 Hello Beverley, ( June 14/2016 )
I have had nothing but wonderful, memorable moments with my new puppy, Ebony. She has made her way into our entire family's hearts. She lives with my husband and I in a condo and is the perfect dog for this type of living. She uses an artificial turf on nasty weather days and through the night and has a perfect disposition. Ebony has a little bit of sass and a lot of love to give to everyone.
Anyone who meets her wants to take her home, so I make sure to give them your name and tell them to check your web site. I highly recommend you to anyone who wants and incredible loving companion and pet.
Looking forward to loving and sharing Ebonys' life for many years.
Attached is a picture of Ebonys' first grooming and another of a peaceful day in Kingston, Ontario just watching out the window.
All I can say is I hope you continue to stay in this business for a very long time because I never want to be without a dog like Ebony and you are the best.
Darlene A
*************************************************
************************************************
Hi Beverly (may 18/2016)

We are just so happy to have little sugar in our lives. Can t thank you enough. She is a beautiful little puppy with such a great temperament and so easy to train.
The whole experience was excellent and you were so helpful and all the great pictures of her were much appreciated in the waiting period.
Will and I am highly recommending you and your precious puppies. Sugar will be training as a service dog for diabetes to alert me to my low sugars.
Will forward you pictures when she has her service dog vest. Thanks Beverly for all you do.
Sincerely, Janice
***************************************
***************************************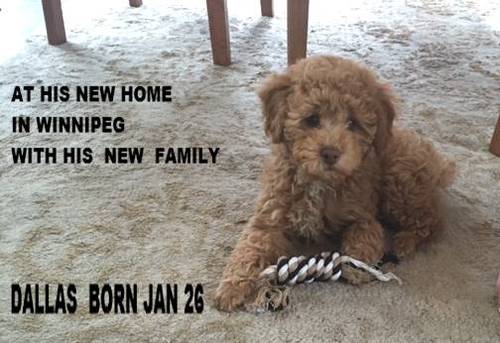 Hi Bev. ( april 8 / 2016)
Dallas was to the vet today and is in good health. No problem with him at all.
He's been a great little guy, we love him so much. Danielle and Alexander and myself are very happy to have Dallas as a part of our family.
GEOFFREY
******************************************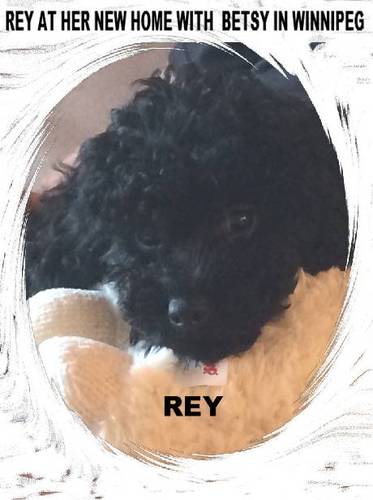 Hi Beverly! (may 10 /2016)
Rey is doing very well. We had a great trip home. She cuddled and played with Ryan.
She's been so good. She's doing her business on the pads in the kitchen. She's so sweet and good natured. Full of love and kisses. She's made herself quite at home here; she has a bed that she loves to play and sleep in. She brings her toys to keep in her bed and kind of throws them out to play with.
Betsy