TEACUP AND TINY TOY POODLE PUPPIES - SOLD
UPDATE APRIL 22 / 2015
CONTACT - BEVERLEY (204) 763-8974
teacuppoodle@mts.net
SOLD PUPS
Click Here
http://www.teacuppoodle.ca/toypoodle.html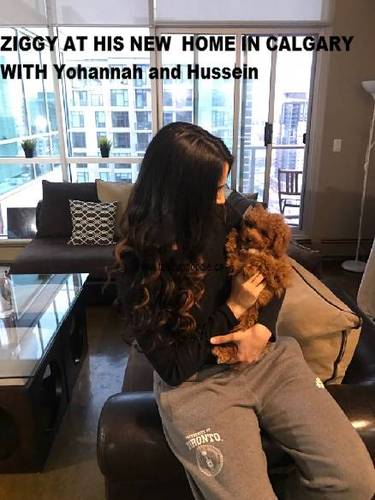 Beverley is an exceptional breeder and has made our experience of getting a new puppy absolutely seamless. She extended her warmth and kindness, and was very courteous and prompt in her responses throughout our interaction with her during the process of getting our puppy Ziggy. Ziggy has been a blessing and an amazing addition to our family. He is extremely friendly, playful, energetic, and amazing with kids and new people. Ziggy is very intelligent and has been very easy to potty train. He sleeps in his crate throughout the night and is a pleasure to look after. Beverley provided us with all the tips and tools necessary to make Ziggy's transition to his new life as seamless as possible. Beverley's honest and loving nature was very refreshing to deal with. We are lucky to have been able to find such a reputable breeder. Thank you Beverley for blessing us with this beautiful puppy. We are eternally grateful.
Yohannah and Hussein
*****************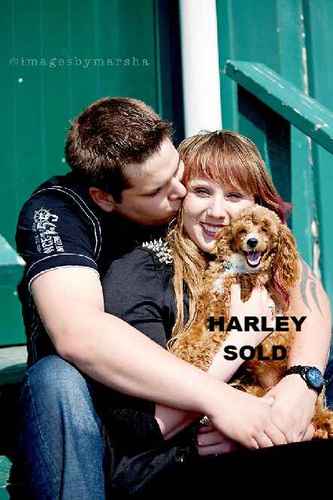 Born aug 15
Picture above at 6 weeks - 18 .7 0zs
GOT HEALTH CERTIFICATE
MY NAME IS 'HARLEY'
ADOPTED - 'PREVIOUS CUSTOMER' - NATASHA
**************************
Happy owners below
CHECK OUT ALL THE EMAILS BELOW FROM MY HAPPY CUSTOMERS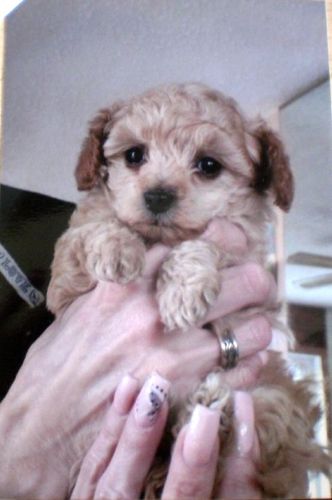 ADOPTED - LEANNE - BRANDON,MAN ---Apricot male --
MY NAME IS "Bentley. C..... .K..."
24 oz @ 8 weeks
picture above
GOT MY HEALTH CERTIFICATE
Our Bentley is doing great ... Can't believe he is 5 1/2 months old already!! He is still cuter than ever and people just can't get over it! And it's not just the girls he wins over!! :). He is quite the Mommy's boy, and I find it hard to leave him even for a short time ... And when I get home he is so excited and almost vibrates out of his skin!! He makes us smile all the time!

He and our male cat, Tango, play like they've always been brothers! They are hilarious to watch! And Bentley likes the cat toys even more than his own!

He has been trained for a while now. We got these bells that hang off a ribbon from the Pet store for a training aid - and it worked perfectly!! He is such a smart little guy! Now when he wants out he just goes to the door and rings his bells!!
And thank you so much for following fate and letting us bring Bentley into our family ... My heart now overflows!
----------------------------------------------------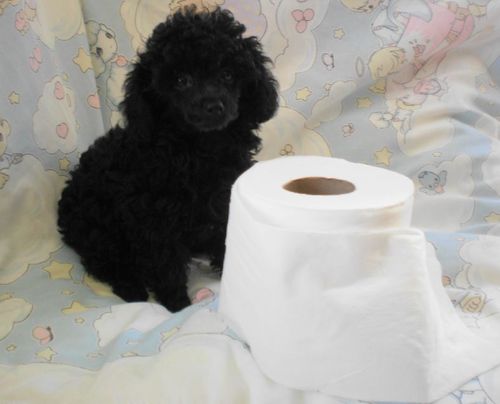 Black Teacup female born june 12 (51/2 in high and 26 ozs at 12 weeks)
SOLD -previous buyer
- CARL (CARL SAYS-she is doing great)
thompson,man
***************************************
Born oct 1/2011
sold -- Laura and Brian,Hartford, CT
GONE TO MY NEW HOME
Hi beverly,
she is being very good. she is getting along with all the other dogs.so happy how good she is doing.
Both jackets fit (sz xs) so cute on her.. it's much warmer around here then there i am sure.
she seems like she likes it here. we are very close.She went in her bed last night and went right to asleep
no problems. wow~ she is a real good girl. she even went and did her messes on the paper
even the 1st hour here.. good job bev. and thanks.
was so cute how she came out of the carrier when she got here and jumped on me and gave kisses like crazy.
she's so loveable.
thanks so much for her..love her already so much.
Laura~

***************************************
I AM DEXTER ,Born Feb 29 /2012
Have been adopted and living with Billy and Coco (Previous Customer) In Ontario
I am enjoying the life of luxury
***************************************
I Am Mr Cheeko.Born April 9
SOLD -TONY AND MINDY - CALGARY
July 23
Hi Bev
Oliver /Cheeko is fitting in very well and has taken over the house. Potty training is slow but we are working at it. I think my wife has become his favourite especially when she is cleaning or sweeping. We are enjoying him so much and I can't begin to remember how many people have stopped us and asked about him and where we got him. I have passed your web site on to them and hope they will get in touch with you. Thanks Bev. I will send you a note periodically to update you on his progress.
Tony
********
Hi Bev We are having a ball with him and he is fitting in so well. He is so calm and mild mannered everyone just loves him.He is being very good and is settling in like he has always been here.
***************************************
Born oct 1 /2011
-ONE CREAM MALE PUPPY - TEO
SOLD -(by referral)
brian&kristina - WINNIPEG.MANITOBA
GONE TO MY NEW HOME
WE LOVE TEO,He is such a good puppy
***************************************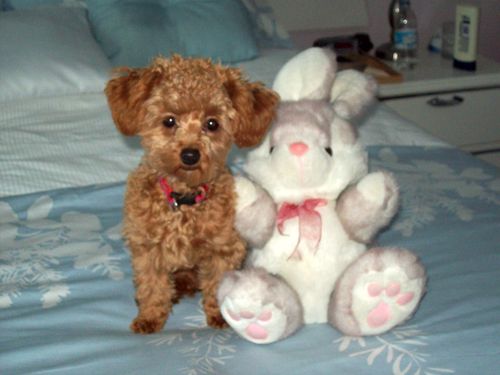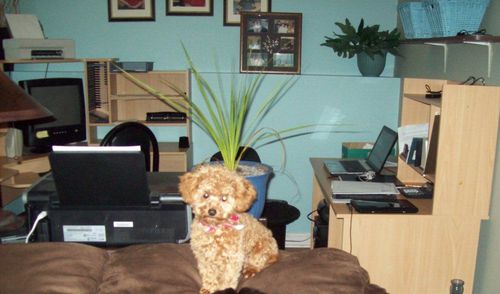 Born may 26/2010 male "BAILEY"
SOLD TO DEANN - HALIFAX
dec21/2011 - e mail
I seen the little puppies on your website and fell in love with the cream ones... but I'm assuming they are all gone.?
So, Bev I would really appreciate if and when you are expecting pups, you could put me on the top of your list..
Please let me know.. Thanks so much, and thank you so much for Bailey, he the joy of our lives...
**************************
E-mail sent -jan 24 /2012 - "FROM A 1999 customer"
Hello Beverly!
It's Chantal from the Toronto area. I just wanted you to know that Scooby and Scrappy are great little dogs! I bought them in 1999. I just came across their paperwork and thought you might like an update! Little Scoopy is still frisky like a puppy and likes to swim! She's full of energy, most people think she's a little puppy because she's full of the bugger! Lol. Scrappy is a very loyal affectionate dog. We call her "Scrappy Bear" because she looks like a tiny bear! She is very gentle and affectionate!. Unfortunately she has the beginning of congenital heart failure. It's sad, she's such a good girl!
I'm sorry we never got in contact with you sooner to let you know how 'pleased' I've been with your poodle puppies! Take care!

CHANTAL
**************************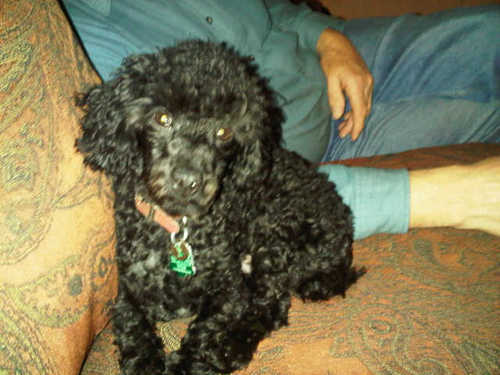 SOLD --CAROL AND NATASHA
BORN JUNE 12
(e-mail letter -Just a little line to let you know that Rambo is doing well. I love him very much, he is such a wonderful puppy. Rambo loves to go outdoors and play in the grass and eat it. He is now sleeping all night in my bed with me and my husband. He gets up in the morning with me when I get ready for work but will go back to bed after a little while. Rambo can go up my stairs but will not come down, I really love it when he gets up on his two paws. Thank you so much for such a wonderful puppy. I will send some pictures later.)
Carol
*****************************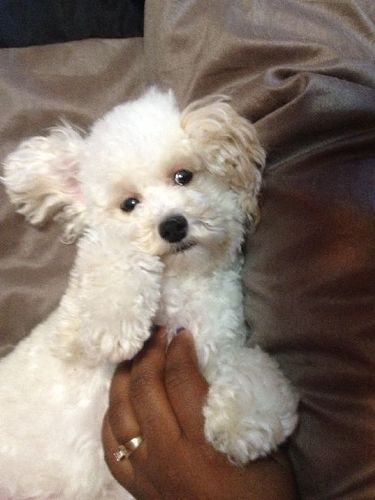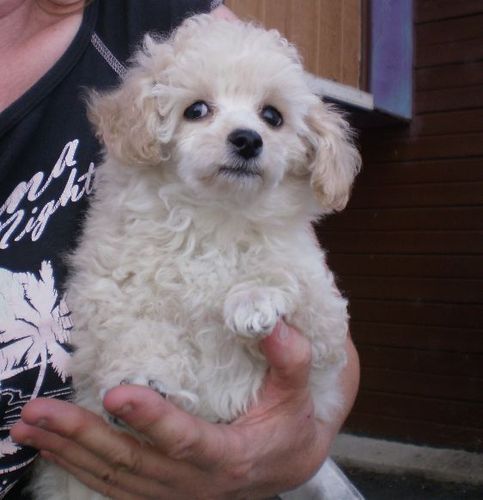 Born july 12/2011
I AM BOLDER THAN I LOOK !!!
Do Not Look At Me That Way !!
I AM 51/2 INCHES HEIGHT AT 12 WEEKS - A LITTLE HAND FULL
SOLD -- NANCY AND ERIC FROM WINNIPEG , MANITOBA
-(by referral)
I just wanted to update you about Leonidas. He's doing really well. Potty Training is going well… he's gone a whole week without an accident! He is now 1.6kg in weight
Otherwise I wanted to Thank you again for the wonderful addition to our family! He's so smart and loving, we couldn't have asked for a better puppy! I'll send some pictures soon.
Nancy
****************************************************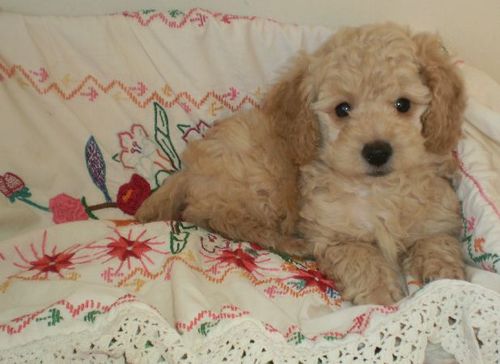 Born oct 1 /2011
SOLD -JUDY - CALGARY,ALBERTA to a loving pet home - who "really" wants me !
BONGO ( MALE)Apricot
(I AM LOOKING FOR A SUGAR MOMMA)
(Born oct 1) picture above
GONE TO MY NEW HOME
Bongo is doing excellent and fits into our family perfectly! He loves music it seems! Falls asleep to my son playing violin and listen attentively to guitar and singing. He hasn't missed a meal and I am grateful for the paper training u have done! He is so smart and curious. We are just in love with him!
I think we have decided to keep his name as it seems to suit him. He has had his vet visit and next round of shots . Much braver than my rotweillers!
Papers will follow this week. Thankyou.
****************************************************
**************************
Born Dec 15 /2010 - Female reddish apricot
I AM SOLD NOW TO DARRYL AND GLADYS FROM MINNESOTA, USA
-(COMMENT -- THE BEST GOOD LOOKING CUTE POODLES WE EVER SAW- WE PURCHASED 3 PUPPIES -FOR PETS)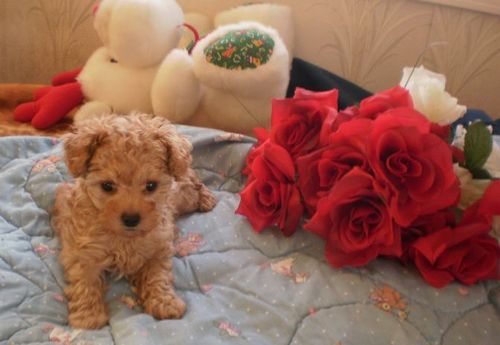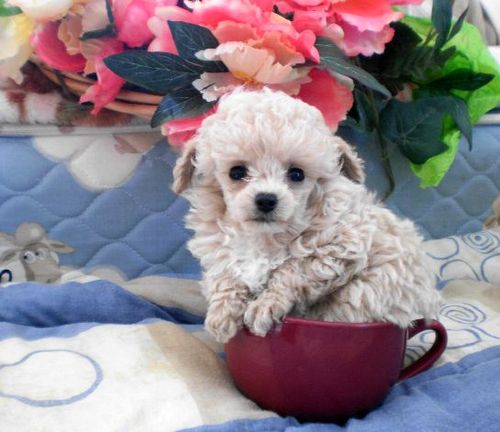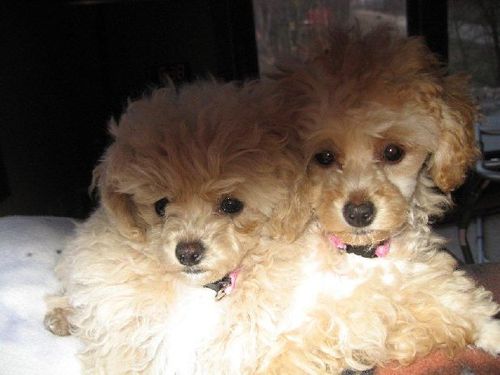 SOLD --- TO - DARRYL AND GLADYS---. CREAM FEMALE PUPPY BORN DEC 25 --- TEACUP - -- 17.7 ozs at 8 weeks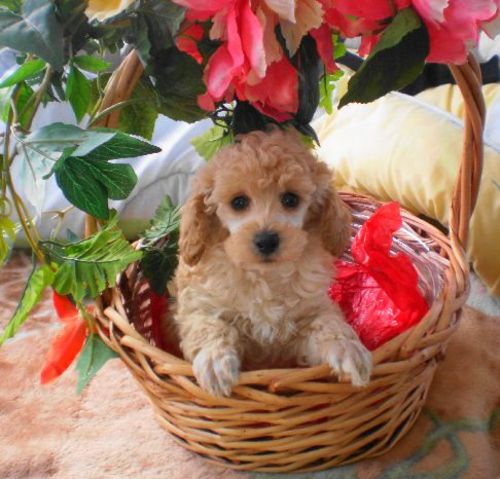 THE LATESTED PICTURE OF THE 2 TEACUP GIRL TOGETTER OF GLADYS AND DARRYL -- MINNESOTA, USA
TO THE RIGHT --SOLD --- DARRYL AND GLADYS -- MINNESOTA, USA - APRICOT MALE PUPPY BORN DEC 25
BORN OCT 1/ 2011 - TAMMY X CHICKIE's PUPPIES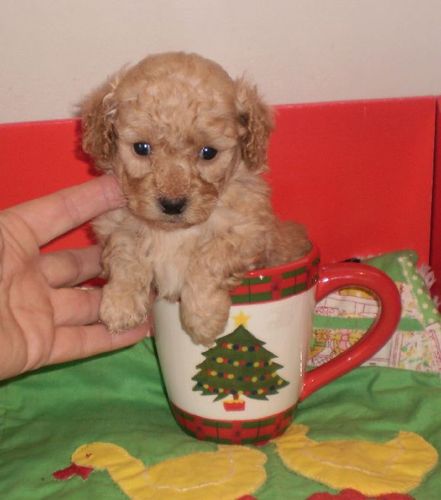 MELISA -MELODY - (ABBY) -- SOLD -LINDA - Stony Mountain,MANITOBA-
previous buyer - "Peanut was the smartest easily trained dog I have ever owned. Wonderful temperament with children."
Hi Bev:
BONGO - Apricot Male

SOLD - JUDY -CALGARY,ALBERTA

Hi Beverly,

Bongo is doing excellent and fits into our family perfectly! He loves music it seems! Falls asleep to my son playing violin and listen attentively to guitar and singing. He hasn't missed a meal and I am grateful for the paper training u have done! He is so smart and curious. We are just in love with him!

I think we have decided to keep his name as it seems to suit him. He has had his vet visit and next round of shots . Much braver than my rotweillers!

Papers will follow this week. Thankyou.

Judy
PARENTS ARE SMALL IN SIZE SO ALL PUPS IN THE LITTER ARE SMALL .
I DO NOT SAY A RUNT FROM A BIG TOY IS GOING TO BE A TEACUP.
I DO NOT BREED ANY OTHER BREEDS
LITTLE BUNDLES FROM PARADISE

TEACUP POODLES WITH BABYDOLL FACES

30 YEARS EXPERIENCE IN BREEDING TEACUP AND TINY TOY POODLES

ALL TEACUPPOODLE PUPPIES AND TEACUPPOODLE ADULTS ARE KEPT AND RAISED IN HOME

WRITTEN CONTRACT, GENETIC WARRANTY,GUARANTEED SAFE SHIPPING -
TWO YEAR WARRANTEE

EVERY PUPPY IS VACCINATED,DEWORMED,
SENIOR AND RETIRED TEACP POODLES ARE LOOKED AFTER FOR THEIR NATURAL LIFE.
NO EUTHANSIA PRACTICED
IT IS UNDERSTOOD THAT PEOPLE WANT BEST POSSIBLE PUPPY BUT THESE TEACUP POODLE PUPPIES WANT THE BEST POSSIBLE LOVING HOME.
WHILE ASKING QUESTIONS ABOUT THE TEACUP POODLE PUPPY ,PLEASE INCLUDE INFORMATION THAT PUPPY MAY WANT TO KNOW AND WHAT LOVE, ATTENTION,TIME,CARE WILL BE AVAILABLE FOR THESE TEACUP POODLES.

TEACUP POODLE IS SOLD ON CONDITION THAT PUPPY MUST NOT BE RESOLD TO PET STORE,UNSUITABLE HOME, SHELTER ETC.
I Can Not Guarrantee Color As Puppy Grows

SAFE AND SECURE ARRIVAL OF PUPPY IS GUARANTEED IN WRITTEN AGREEMENT. CKC REGISTERED POODLES

ALL RECORDS OF VACCINATION,ETC AND INTERNATIONAL HEALTH CERTIFICATES REQUIRED IN DIFFERENT COUNTRIES ARE PROVIDED WITH THE PUPPY AT NO EXTRA COST
PUPPY IS LIKE A NEW BORN BABY

Do not let puppy outside, or near other pets of other people, or outsiders who have a pet unless they disinfect their hands. It is safe to wash hands before playing with puppy. Give puppy time to develop immune system.
Basically that is how bacterial and viral infections are spread.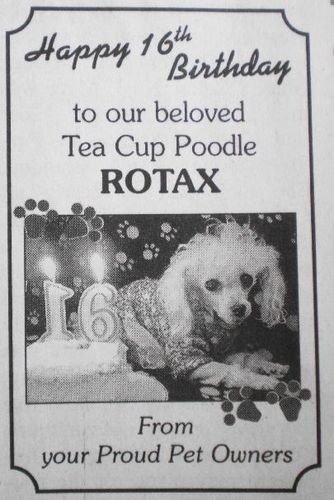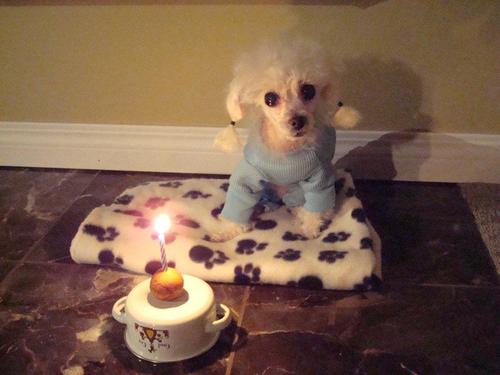 march 3 - born
purchased by Robin -16 years ago today from me
Hi Beverly,
One of your proud pet parents from many moons ago
I just wanted to express how much I enjoy going on your websites and looking at all the beautiful little angels you are responsible for. We purchased our little man Rotax Willham ........ almost 16 years ago from you and he continues to do well. Of course he know is getting cataracts and is becoming hard of hearing but boy oh boy he still goes like the energizer bunny with the except of steps as he is so small. I just wanted to let you know how much joy and love this little gift has brought myself and husband. My husband and Rotax are inseparable. We thank god each day we have him in our lives. He loves everyone he meets and everyone who meets him falls in love with him instantly. Anyway just wanted to email you and let you know how grateful I am to have met you those many years ago and how blessed we have been with our little tea cup poodle. Take care and hope to talk again to you. By the way that little black fellow on your website is so beautiful as they all are but he caught my eye. Do you have many black pups?
Take care and all the best.
Robin
---------------------------------------------------
The girls are great..thanks for sending us amazing dogs-Chantal,
My new Mom Judy H. Ont. taught me boating and says I am the cutest teacup around
THANK YOU FOR SENDING SKYE TO US.WE JUST LOVE HER. ;SAYS. MARRYANN. W.
Everyday becomes more and more beautiful..is extremely intelligent..our wonderful Reny. thank you for breeding such beautiful and social puppies. Melissa,Cosmo, Ont.
He is so small, adorable, We take him everywhere and he always attracts a lot of attention. JEANNEETTE
THEY COULD NOT BE MORE PERFECT. . absolutely fabulous. APRIL,
I couldn't be more pleased. She is such a delight& adorable pup...& thank you for such a wonderful gift..........Joan T.
I still want to thank you for such a special little pup. She is so loving and sweet. We do sleep together..She is so funny. Have you got a hundred more just like her,I'll take them all..(ha Ha). Special thanks..Carol
little Tia is doing great!! We love her dearly..will send you a picture .....Debbie
Sure is a darling..love him to death..Bo went to church with me..thank goodness no other dogs attending-Mary-painter,artist,humane society member/volunteer.....
Puppy has arrived home safely and is cute as can be. Tishy and Cassy are very happy..BRENDA ,
SO CUTE AND 3 LBS ............. JESSIE,
He is in perfect shape..he brings us something special in this house.--Vandall
Best wishes for sweet natured..loves to run play -Shirley.
Very unique..we love her dearly.Her and my daughter bonded very closely sleeps with her..could not be more pleased thank you for blessing us with her presence-Lois M.
WE HAVE FALLEN IN LOVE WITH OREO. JEANETTE+ SHANNA. .
I SAY WOW GREAT DOGS. ..APRIL. .
just want to let you know that Chanell is doing very very well. She is such a
good girl, she sleeps when I sleep, and doesn't wake up till I do unless she
has to go. She will not dirty her crate. She is eating better, and getting
used to her surroundings. A very smart and lovable dog too. Warmest Regards Carol Ma.USA

Just a note to tell you that Maycee is doing very well & is a beautiful little girl. A very spunky little puppy, lots of fun & very well behaved..............
Our little pup is just a sweetheart, so gentle.........Thanks. M.A.
BUYER BEWARE
PUREBRED POODLE MEANS REGISTERED AND IF YOU DO NOT GET THE REGISTERATION PAPERS -IT IS NOT A PUREBRED POODLE AND YOU DO NOT PAY EXTRA FOR THE REGISTRATION PAPERS
HYPOGLYCEMIA can also be a hereditary condition.
it tends to run in certain bloodlines
Breeders talk about hyperglycaemia and tell you what to give the puppy for it !!! why would you breed a poodle that carries that in there pedigree if a teacup is bred from a healthy line, and bred from a line that is specifically bred to be small, then they can be just as healthy as any other size dog.
i do not have any hyperglycaemia in my lines

Don't mistake a runt from a larger poodle to be a teacup. True teacups are a small breed of their own. Beware of breeders selling their puppies at a very young age. You can't tell what the puppy will truly weight until it is over 12 weeks old old! Do Not purchase your poodle until they are 12 wk's of age.

I know a lot of people that have paid the price for a teacup and ended up with a 10 pound toy.
Shop smart and buy smart.
You can put a deposit on a puppy and wait and see what he is going to be. If the breeder is not willing to do this or you might not even get your deposit back and if the breeder is not willing to give you size in writting and some refund if it grew to big
WHY PAY BIG money for a puppy with nothing in the written warrantee

BUYER BEWARE!
READ MORE BELOW
The Poodle dog price varies considerably from breeder to breeder, and it is therefore important to ask yourself what you actually get for your money. Is the price high because the Poodle dog breeder has devoted a lot of time and money into the development of healthy and well socialized Poodle puppies, or is the price high because the breeder is the reckless owner of a puppy mill?Is the poodle akc registered and imported to canada ,then the poodle must be identified and tatooed and put in ckc registration at the time of being imported.are the puppies registered ,when the parents are registered. Has the breeder taken care to chose the right parents, or is he or she simply using the cheapest available dogs? Is the bitch healthy and happy, or has she been forced to produce as many puppies as possible each year? Has the breeder paid to have the Poodle puppies checked by a vet, vaccinated and de-wormed or will you have to pay for this out of your own pocket? These are just a few of the questions you should ask your self when comparing the Poodle dog price offered by different breeders. If you have located a reputable Poodle dog breeder, do not try to save a few bucks by going to a puppy mill instead. Poodles are generally expected to reach an age of at least 12-15 years, but this is naturally not true for unhealthy Poodle dog puppies. Buying a Poodle dog plagued by hereditary ailments can also turn out to be a very expensive purchase in the long run since the dog might require extensive veterinary care. It should be stressed that a high Poodle dog price does not in any way guarantee that you will get a high quality dog – the price might be high simply because the seller is greedy.